Social Services » Al-Ayn Social Care Foundation
About Al-Ayn
Al-Ayn Social Care Foundation is an independent humanitarian organisation which has the support and blessings of his eminence Al-Sayyed Ali Al-Hussaini Al-Sistani (ha). The charity was established and legally registered as an NGO in Iraq in 2006 (registration number 1Z71970). Al-Ayn's services are focused on providing dignified and comprehensive care for orphaned children in need.
Al-Ayn is present in fourteen provinces within Iraq, with a total of 161 offices, branches, or kiosks across the country. Al-Ayn is also legally registered and active in the USA, UK, Australia, Canada, Sweden, Norway, Germany, the Netherlands, Denmark, and Switzerland. The charity is also active on a multinational level within the United Nations, owing to its special consultative status with the United Nations Economic and Social Council.
Al-Ayn aims to reach the largest possible number of orphaned children in need in Iraq; the charity's vision is to provide comprehensive care programs that allow these children to access opportunities which can help them transcend the cycle of poverty and build a brighter future. Al-Ayn takes pride in advocating for these children and taking action to combat the injustices they face. The charity aspires to become a pioneer in the care of orphaned children.
Since its establishment, Al-Ayn has sponsored over 108,000 children; as of the end of 2019, 61,800 children were still in the charity's care. In 2019 alone, Al-Ayn's charitable expenditure was approximately USD 89 million.
Al-Ayn spends all donations directly on charitable causes. The office of Al-Sayyed Al-Sistani covers the administrative fees of the charity.
Authorisation
Al-Ayn has the support and blessings of his eminence Al-Sayyed Ali Al-Hussaini Al-Sistani. He has authorised Al-Ayn to receive religious dues of both parts (khoms) in Iraq and globally. Receipts issued by Al-Ayn are sufficient in fulfilling one's obligation to pay their religious dues of khoms.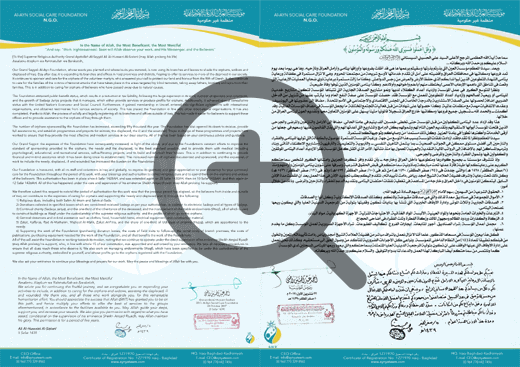 Aims
Providing comprehensive services to vulnerable families and children.
Achieving the following goals:

meeting the needs of orphaned children and their families by distributing financial and in-kind assistance on a monthly basis;
providing health care and securing costs of treatment and surgery inside and outside Iraq, as well as providing orphaned children with special medical needs any additional support they may require;
providing evidence-based psychological treatment and promoting the mental well-being of orphaned children;
empowering and cultivating the talents of orphaned children, in addition to encouraging academically gifted children through the provision of additional tuition and support;
securing adequate housing for orphaned children and their families through the construction of new housing complexes, refurbishment of damaged housing, and provision of additional support to ensure housing is of an acceptable standard; and
catering for the social, economic, and cultural upbringing of the orphaned children.
Sources of Finance
Grants provided by the office of his eminence Al-Sayyed Ali Al-Hussaini Al-Sistani.
Khums of both parts (Sahm Al-Imam and Sahm Al-Sada), and other religious dues such as Zakat Al-Mal, Zakat Al-Fitrah, Fidya, Kaffara, Rad Al-Madhalam, Majhool al-Malik, as well as the right of the needy in sacrifices of pilgrims.
Private sponsorships.
Sadaqa Boxes.
Electronic Sadaqa fulfilled through electronic financial transfers.
Continual Charity (Sadaqa Jariya) donations.
In-kind donations (provided that they comply with Al-Ayn's policies regarding the dignity of orphaned children).
Donations allocated to support the overall work of the charity.
Child Sponsorship
Al-Ayn provides comprehensive care to orphaned children in a manner that promotes their dignity and improves their self-confidence. Al-Ayn supports children until they complete vocational training and secure employment, or graduate from university.
Selection Process
Al-Ayn conducts a thorough means-based assessment before agreeing to support a particular child. The assessment includes a home visit, conducted by a professional field worker. Information collected from the home visit is then tested under the charity's strict due diligence procedures. Al-Ayn provides support to the most vulnerable families and cooperates with similar organisations to ensure that there is no duplication of effort or support.
Once registered with Al-Ayn, children are eligible for a basic level of monthly financial support (the equivalent of USD 70). The means assessment is renewed biannually to ensure that the orphaned children are still entitled to the aid provided. If the family can surpass the poverty line without Al-Ayn's support, then resources are reallocated to prioritise those with greater needs.
Al-Ayn believes that children are best cared for in their own homes and communities, under the care of family members. Al-Ayn does not run orphanages which isolate children from their natural environments.
Private Sponsorship
Al-Ayn runs a program that allows supporters to privately sponsor a named orphaned child. Sponsors are provided basic information about the child and can request to meet them under supervision in an Al-Ayn office.
Sponsors provide a monthly financial sponsorship amount to the children they support. Al-Ayn takes responsibility for delivering the full amount to the children and visiting the families regularly to ensure that the money is improving their lives. The following table shows the cost of sponsorship in each country.
| | | |
| --- | --- | --- |
| Country | Currency | Amount |
| Iraq | IQD | 75,000 |
| USA | USD | 70 |
| UK | GBP | 55 |
| Australia | AUD | 100 |
| Canada | CAD | 100 |
| Germany | EUR | 68 |
| Netherlands | EUR | 68 |
| Sweden | SEK | 650 |
| Norway | NOK | 620 |
| Denmark | DKK | 600 |
| Switzerland | CHF | 80 |
| China | CNY | 450 |
Sadaqa Boxes
Al-Ayn has designed special Sadaqa Boxes (charity boxes) to collect funds to be spent on orphaned children registered with Al-Ayn.
In light of his general guardianship over orphaned children and the needy, Al-Sayyed Al-Sistani has considered the act of putting money in Al-Ayn's Sadaqa Boxes to be a transfer of ownership to him, on behalf of the orphaned children. Hence money placed in these boxes is considered Sadaqa Maqbootha (received sadaqa) as soon as it is placed in the box, and the rewards of Sadaqa are reaped immediately. This permission is exclusive to Al-Ayn Social Care Foundation.
Zakat Al-Fitra can also be placed in the boxes, as authorised by Al-Sayyed Al-Sistani.
Boxes can be collected from any of Al-Ayn's global branches or offices.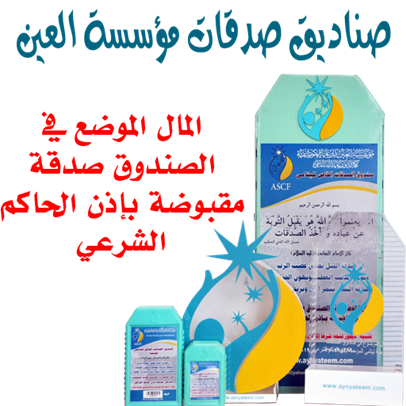 Continual Charity (Sadaqa Jariya)
Al-Ayn uses continual charity (Sadaqa Jariya) donations to establish projects that: (i) provide direct services to the orphaned children (for example, a housing complex); or (ii) generate profits that are invested in their support (for example, a hotel). Al-Ayn establishes these projects on endowments belonging to the supreme religious authority.
There are currently 87 continual charity projects that are either completed or under construction across Iraq. The projects include:
Imam Al-Baqir housing complex in Najaf, which contains [66] houses for orphaned children and their families;
the Luminous Stars centre in Kadhimiya, which provides psychological rehabilitation and vocational training to orphaned children;
Shajarat Tuba hotel, which is currently under construction in Karbala.
Services provided to Orphaned Children
Al-Ayn provides holistic support, which encompasses the following branches.
Financial Aid: Every orphaned child sponsored by Al-Ayn receives a monthly payment of at least USD 70. This helps them to surpass the poverty line.
In-kind Aid: These items, such as household appliances and clothing, are provided periodically or on a needs-basis.
Healthcare: Al-Ayn provides primary health and dental care for orphaned children and their families through integrated health centres. Al-Ayn also covers the costs of surgical operations and other exceptional medical requirements. In 2019 alone, Al-Ayn treated 43,733 medical cases of orphaned children and covered the cost of 1,188 surgical operations inside and outside Iraq.
Psychological Rehabilitation: Al-Ayn passionately promotes the mental health of orphaned children. In cooperation with medical experts, the charity runs a rehabilitation and counselling centre to address the psychological needs of orphaned children. Since the centre opened in 2012, it has registered 1,669 cases and treated many conditions of, among other conditions, depression, anxiety, and post-traumatic stress disorder.
Educational Care: Al-Ayn provides children with school supplies and additional educational courses. The charity also organises annual celebrations to recognise the children's academic success. Al-Ayn also liaises with sponsors and donors to facilitate scholarships to cover university tuition fees and related costs.
Vocational Training: Al-Ayn has established a vocational training centre for youth who do not to continue with their studies. The vocational training centre provides paid traineeships for youth within their chosen vocation, for example hairdressing. The centre also provides loans to help budding entrepreneurs to establish businesses and ensures that all vocational graduates secure employment.
The centre has successfully trained 250 orphaned so far.
Housing Support: Al-Ayn ensures that all orphaned children live in adequate and safe homes. Al-Ayn rebuilds and repairs inadequate houses, and constructs new homes for those in the direst living circumstances.
Al-Ayn has completed the construction of housing complexes in Baghdad, Najaf, Karbala, Muthanna, Babil, and Salah al-Din. Al-Ayn has completed the development of 568 homes through construction, restoration and the building of housing complexes.
Legal Support: Legal support is also provided to families under Al-Ayn's care, such as assistance with registering births and completing simple legal transactions.
Hikayati (My Story) Centre: Al-Ayn's vision is that every orphaned child is given the necessary tools to realise their potential. The Hikayati (My Story) centre (under construction) will provide children with programmes to enhance their well-being and life opportunities through a combination of education, play, keyworking, coaching, therapy and spiritual guidance.
Every child's journey through Hikayati will be personalised to their needs. Everyone will receive one-to-one keywork, a series of specially designed workshops and a programme of long-term mentoring and support ensuring that they do not only survive, but thrive, ready to face the challenges of the future and to become the next generation of parents, workers and leaders in the communities they live in.
Care for Internally Displaced Persons
Al-Ayn played a pivotal role in the IDP crisis in 2014 by establishing and managing two housing complexes in Najaf and Karbala, constructing a primary school, and implementing a number of other services for the IDPs.
Al-Ayn has also sent food aid, blankets, clothes, and other necessities to areas with displaced families in Tikrit, Salah al-Din, Qayyarah, Hamam al-Aleel, Badoush, and Jad'a.
COVID-19 Pandemic
In response to the COVID-19 Pandemic, Al-Ayn supported thousands of families of orphaned children, and other families living in poor areas, through providing them with essential food supplies and sanitisation material.
Contact Details
Al-Ayn Head Office (Iraq)
Email: vasb@nlalngrrz.pbz
Call centre: 6777
Telephone: +9647703298965
Website: aynyateem.com
Al-Ayn International Offices